Our biggest holiday decorating guide ever is packed with clever tricks and chic tips to spread plenty of cheer.
A Festive Mantel
A wreath in the shape of a star, bright and cheery presents, and country-style stockings create the perfect Christmas scene.
Set a Festive Table
Look no further than your backyard for the makings of a pretty table runner. Wood slices add a rough-hewn touch and can also log time as chargers or makeshift cake stands. For a whimsical place setting, slide good old handwritten namecards into the slots of vintage sleigh bells  and give new meaning to "be there with bells on."
Deck Your Front Porch
Made of moss- and lichen-covered twigs, the wreath sets an unfussy tone for visitors.
Greeting Card Ladder
An old orchard staple becomes a fruitful holiday display with season's greetings (secured with clothespins attached to a string) in this Tudor home's living room. A chalkboard provides a spot for well wishes.
Add Rustic Charm
Show off the influx of season's greetings on a vintage tobacco basket by tucking well wishes into the overlapping strips of reed. (For old baskets, try eBay, Etsy, or CL Fair vendor Great Stuff By Paul).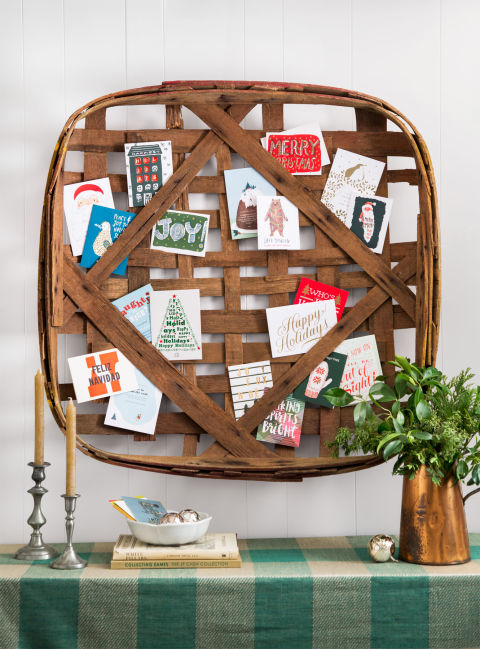 Sled Card Display
A century-old coaster calls to mind winters past and showcases a flurry of Christmas greetings.
Deck the Stairway
Weave lights and a garland around your handrail for a punch of Christmas charm.
Mason Jar Christmas Tree
This idea's perfect for a mantel or entry table: Fill six like-sized canning jars with ornaments, tinsel, greenery, you name it. Assemble the jars in a pyramid, then wrap it with a shiny garland and top with a star. Done!
Nostalgic Tones
For the tree in this cozy Christmas cabin, a simple popcorn garland, glass ball ornaments, and a wooden crate in lieu of a tree skirt reinforce the home's-stuck-in-time vibe. The fir garland above the mantel and solo sprigs of pine found in vases throughout the house also add an organic element.
Hang a Country Stocking
Add country flair to your mantel with stockings in designs of a seed sack, gingham, ticking stripes, or a grain sack.
Fill Your Fireplace
Filled with split logs (some accented with colorful chalk for extra panache), this non-working fireplace still proves a cozy anchor for this Tudor house's family room.
Light Things Up
Add a touch of green year-round by installing forest green lamps on the exterior of your home or barn.
Waiting for Santa
Kids will love this idea: Add cozy sleeping bags for "campouts" under the Christmas tree.
Welcome Gifts
Sweeten a garland with welcome gifts. Offer treats to overnight guests as they head up to their temporary digs by hanging coffee mugs filled with candy and hot cocoa mix on the banister garland
Poinsettia Mantel
Put your collection of vintage apothecary bottles to good use by arranging single stems of poinsettias in them as part of a simple but festive mantel display.
Vintage Crates
Swap out stockings for vintage crates! Give each guest a special delivery on Christmas morning by coralling gifts in tagged shipping crates under the tree.
Mini Table Tree
Instead of one grand tree, place multiple mini-trees throughout the house. This one, on the library's demilune table, jibes with the room's palette.
Coastal Themed Holiday Garland
Salvaged tabletop driftwood trees, discarded shells affixed to a mirrored, candlelit sconce, and a nautical garland add festive touches to this this easy-breezy stairwell.
Bold and Bright
A brown-and-green garland adds a stark contrast to an all-white fireplace.
Light Up A Room With Color
Brighten a room with colorful bulbs. Even unplugged lights shine when gathered in a glass apothecary jar. For a container that truly glistens, top it off with a dusting of artificial snow.